Transform your educational space
With our custom technical furniture solutions
You have landed at the right place!
For decades, Podion has been trusted to deliver high-quality, innovative and functional technology enabled furniture that enhance the way people communicate, teach and share content.
Our range of podium and multimedia lecterns, touchdown points, plinths, collaborative tables and other technical furniture items are all essential components of any learning environment that relies on technology.
Lecterns are no longer limited to traditional presentation environments. They are now being utilized as a centralized teaching hub within active learning spaces. They allow educators to deliver immersive content, to easily control the technology in the room and move around to actively engage their students.
We have shipped both off-the-shelf and custom lecterns to universities, schools and colleges around the world; from Australia, Hong Kong, Malaysia, Singapore, New Zealand to the USA, Dubai and Mexico. Our Touchdown Points, a wall-mounted alternative to the free-standing lectern, are being rapidly integrated into flexible, collaborative learning spaces.
We have built long-lasting relationships, that span over a decade, with leading Australian universities that go well beyond one-time projects. We are excited to deliver Australian innovation to the global education market. We are here to help you empower new learning.
Discover why educational clients choose Podion….
Why Choose Podion?
We are proven to exceed the strict selection criteria of educational facilities worldwide.
Podion offers a range of lecterns and technology enabled furniture with custom options and configurations that are functional and fit-for purpose.
We give you the ability to integrate new pedagogy, technology and space that ensures your students are equipped with the skills they need to thrive in a fast-paced world.
Our lecterns deliver ease of use and maximum comfort.
For the integrator, lecterns provide accessible, secure, storage solutions for AV & IT equipment, in addition to smart cable management and natural convection features throughout.
For the educator, they find themselves interacting seamlessly with digital content. They can easily control the technology of the room and present content and concepts in multiple ways.
We construct with robust materials that are low maintenance and withstand high frequency use.
Our commercial grade MDF worktops are hard-wearing and features seamless curved edging, void of any sharp corners.
Our chassis metalwork and stainless steel panels are powder-coated to create a hard finish that is tougher than conventional paint.
Our 2Pac finishes are resistant to moisture and staining, simple to clean and extremely resistant to all scratching, marring and/or chipping.
Adaptable to the user and environment
The use of modular, interchangeable components across our range ensures configurations can be adjusted to support rapidly evolving technology. It's effortless to change a base, worktop and even the logo panels in response to changing needs.
Built-in electric height adjustment adapts the height of the worktop and rack equipment to suit the user, creating a more comfortable presentation experience.
Serviceable, without compromising aesthetics
We use high-quality materials with attractive paint finishes that are fully serviceable.
Design features, such as accessibility points, natural convection and cable management systems, ensures equipment is fully serviceable, remains cool and is easy to access for installation and trouble shooting.
We also guarantee continuity of supply for years to come, should you have any issues.
Add your logo and colours to our entire range to ensure brand uniformity across your spaces – from classrooms, collaborative spaces, boardrooms to lecture theatres and theatrettes.
We also modify any furniture in our range to suit your needs.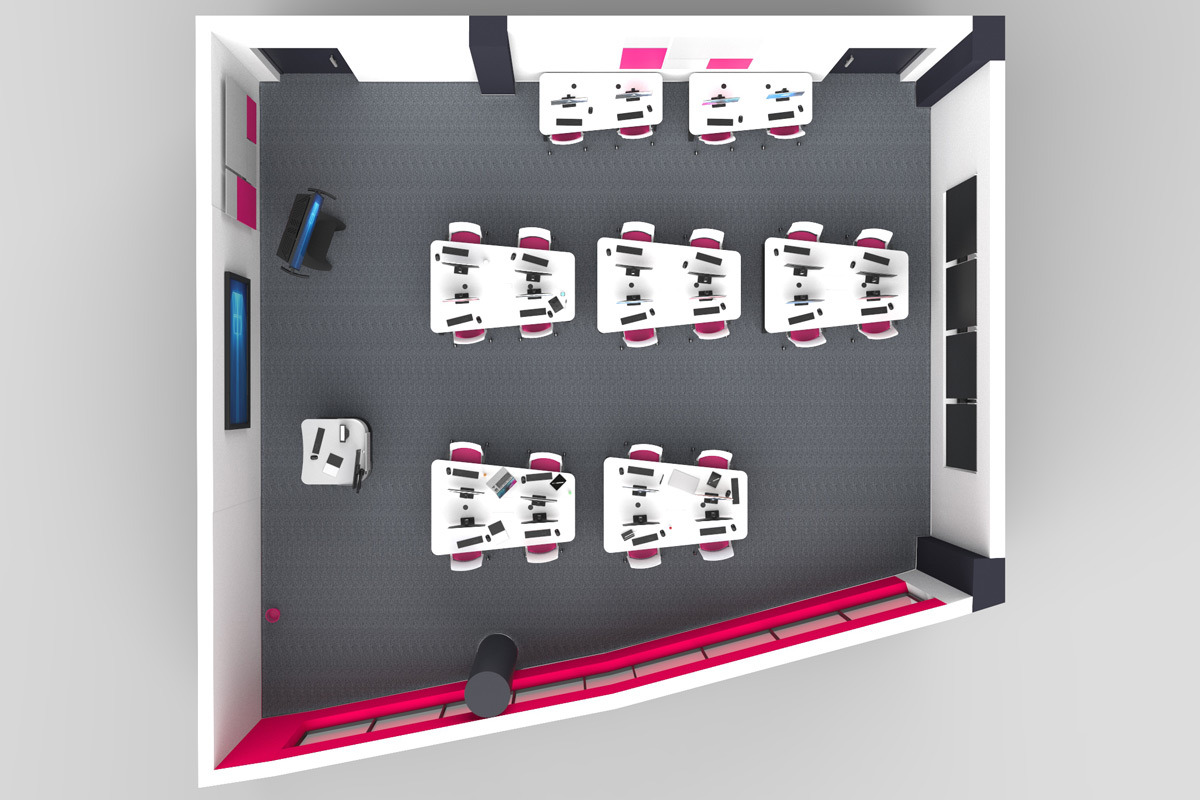 We can help you design spaces that are flexible, encourage collaboration and adapt with changing technology.
Bring us your ideas. Your needs. Your wants. Your vision. We'll create renders. Produce prototypes. Refine, redesign, and perfect it. We'll work with you every step of the way to deliver your custom educational furniture.